Edward T. Kjaer
Edward T. Kjaer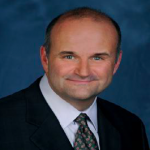 Director, Transportation Electrification
Southern California Edison
Session Details
Accelerating Consumer Exposure
May 21, 8:30 am – 10:00 am
The GoElectricDrive "Accelerate The Good" campaign is a nationwide cause marketing effort to raise consumer awareness for and promote adoption of electric vehicles. During this session, campaign partners will share how their organizations have successfully leveraged "Accelerate the Good," and work with attendees to apply the GoElectricDrive brand in their own consumer facing initiatives.
Bio
Edward Kjaer is the Director of SCE's Transportation Electrification program. In his role, Ed is responsible for this broad corporate wide effort supporting transportation connecting to the SCE's electrical system. Ed's responsibilities include; company strategy, external stakeholder engagement, regulatory and legislative strategy, and internal company wide program coordination. Prior to this position, Ed has been a leading proponent of electric transportation at Edison holding key leadership positions since joining the company in 1996. In 2011, Ed received the prestigious "Hall of Fame" award from the Electric Drive Transportation Association and has been named to the Automotive News "Electrifying 100" most influential people leading industry towards a more electric powered transportation future.