Alex Schroeder
Alex Schroeder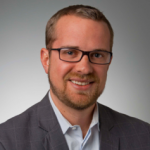 Manager, Transportation Technology Deployment
National Renewable Energy Laboratory
Session Details
Government's Role in Innovation

May 20, 10:30 am – 12:00 pm
The Government is a leading adopter and developer of advanced technologies. Learn how electric drive is getting energized by R&D, strategic infrastructure deployment, and accelerated support from all levels of government.
Bio
As the Manager for Transportation Technology Deployment at the National Renewable Energy Laboratory (NREL), Alex oversees program coordination, customer relationship development, project portfolio oversight, quality assurance, new business development and strategic planning responsibilities for the lab in its transportation deployment activities. Prior to joining the NREL, Alex was the senior manager for transportation fuels at the Colorado Governor's Energy Office. While with the state, Alex worked to develop, implement and promote the use of alternative fuels in Colorado. In this role, Alex created a bi-partisan, 16-state agreement to aggregate natural gas vehicle purchasing across the states. He was the co-chair of the Colorado Natural Gas Vehicle Coalition and NASEO's Natural Gas Task Force as well as the Governor's representative on the Governor's Biofuels Coalition. Immediately prior Alex spent 6 years with the Western Governors' Association, mainly as the Program Director for Transportation Fuels and Radioactive Materials Transportation. Alex has also worked for the Colorado Energy Research Institute and PA Consulting on both policy and market facing projects in the energy sector. He received his B.S. in General Engineering and completed the Professional Pilot Program at the University of Illinois and has an M.S. in Engineering and Technology Management from the Colorado School of Mines.