Andrew Daga
Andrew Daga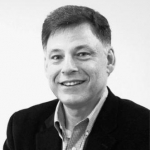 CEO & Founder, System Architect
Session Details
To Plug or Not to Plug: Wired vs. Wireless Charging
May 21, 8:30am-10:00am
As electric drive technologies advance, 'plugging-in' may not involve a plug at all. Come watch the leaders in the charging infrastructure industry debate the merits of wired vs. wireless charging of EVs – and be prepared to offer up your questions!
Bio
Andrew Daga is the CEO and co-Founder of Momentum Dynamics, and a co-inventor of its wireless charging technology. He is a voting member of the SAE J-2954 (Society of Automotive Engineers) taskforce committee on wireless charging interoperability, and a co-chair of the commercial vehicle applications sub-committee of J-2954. He also serves on several related SAE committees which have common standard-setting interests related to wireless charging, including J-247, which has responsibility for Communication between Plug-in Vehicles and the Utility Grid. Mr. Daga has diverse professional background that includes senior corporate management for a major software company (Bentley Systems); Senior Project Engineer for major civil engineering and construction engineering firms (Raytheon, Gilbane) where he worked on diverse projects ranging from factory mega-construction projects to the design of power generation complexes in the US and Thailand.
With Master's degree research at the University of North Dakota, and additional thesis work, Mr. Daga has also served as a consultant to NASA and major aerospace companies (Boeing, Lockheed), and the US Department of Defense, for a range of projects and studies, including work on the solar power array mast canister mechanism and structure for the International Space Station (shown above). This work was completed for Lockheed under extraordinary time and budget pressures and delivered in time for a major NASA Critical Design Review, which involved a clever mass-reduction strategy that leveraged the EVA capabilities of astronauts. He has also completed additional work on NASA's Constellation program working with Boeing, and is a recognized expert on astronaut human factors and system design. A study for the DOD on space-based solar power led to the original research for methods to reduce mass by substituting a novel technology for wirelessly transmitting power in space-based projects.