Andy Bartosh
Andy Bartosh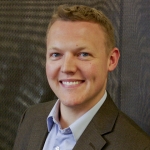 Program Manager, EV Charging Infrastructure
Session Details
The Quest for Quick
May 20, 10:30 am – 12:00 pm
As the adoption of plug-in vehicles continues to accelerate, so does the race to reduce recharging time. Quick charge technologies are advancing – well – quickly and these companies are exploring the most efficient ways to transfer electricity, increase EV range by strategic placement, and manage this hefty load to the grid.
Bio
Andy Bartosh is the Program Manager for ABB's Electric Vehicle Charging Infrastructure (EVCI) business unit for North America. ABB (NYSE:ABB) is a $40B USD global power and automation company. ABB is a leader in DC charging of electric vehicles, with the largest install base of DC chargers in the world.
Andy has been a part of ABB's EVCI business since its launch in North America, helping expand its global footprint westward from early successes in Europe. He is currently responsible for business development as well as overseeing operations and development of UL-listed products for the Americas markets.
With almost 6 years at ABB, Andy first joined as a Project Manager for ABB's Advanced Power Electronics business, where he managed several multi-million dollar projects, providing customers with custom power supply, grid stability and battery energy storage systems.
Andy holds a Bachelor of Science degree in Mechanical Engineering from the University of Wisconsin-Madison and a Master of Business Administration from Marquette University. He is also active in several NEMA, IEEE, and other EV-related sub-committees.