Craig W. Rigby
Craig W. Rigby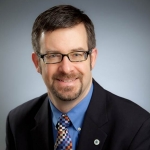 Vice President Product Management and Strategy
Session Details
Fascia Lift: The Future of Electric Drive
May 20, 2:00pm-3:15pm
The small light-duty vehicle segment has received the majority of EV offerings, but in a market where pick-ups, SUVs, and sedans dominate, how is electric drive evolving?
Bio
Career
Craig Rigby is currently serving as the Vice President Product Management and Strategy. Craig leads a team to research, analyze, design, communicate and drive business and product strategy for the Original Equipment (OE) group. He has global responsibility for product management including road-mapping, core products, and optimizing the OE product line including SLI, EFB, AGM, and Lithium-ion products supplied to OE customers. He also coordinates market research and competitive intelligence for the OE group

.
Rigby joined Johnson Controls as Director of Hybrid Systems Engineering in March 2007 and was responsible for the development of lithium-ion battery systems. In his previous role as Vice President Global Product Engineering he was responsible for research and development initiatives which position Johnson Controls as a technological leader in our industry across all chemistries and battery initiatives.


Prior to Johnson Controls, Rigby was Director of Program Management and Business Development at Collins & Aikman Corporation. He also worked as an Engineering Supervisor at Ford, with a leadership role in the launch of the Ford Escape Hybrid.
Education and Background
Rigby holds a Master of Science in engineering management from Wayne State University in Detroit, Michigan and a Bachelor of Science in naval architecture and marine engineering from the University of Michigan in Ann Arbor.