David Rosenberg
David Rosenberg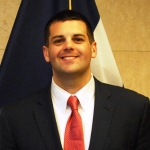 Director of Enterprise Development
Session Details
The Local View: Public, Private, and Partnered for Success
May 21, 10:30am-12:00pm
What do manufacturers need to do to get greater penetration with cities and local governments? What are the benefits of electric and hybrid fleets - budgets, cleaner fleets, etc.; role of public sector?
Bio
David Rosenberg serves on the cabinet of Mayor Greg Ballard as the Director of Enterprise Development for the City of Indianapolis. In this capacity, he has worked to further Mayor Ballard's goal of eliminating foreign fuel from the city's fleet by 2025. David helped to attract a $35 million investment from French conglomerate Bollorè to install an all electric car share system in Indianapolis. David also serves as the city liaison at the federal, state, and local level.
Before joining the administration, David graduated from the Indiana University Maurer School of Law and Indiana University-Bloomington where he majored in History and Political Science.