Doug Bresnahan
Doug Bresnahan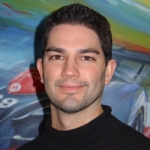 Vice President of Marketing Partnerships
Andretti Autosport // Andretti Sports Marketing
Session Details
EDTA Member Networking Lunch
May 19, 1:00pm - 2:00pm
Bio
Doug Bresnahan serves as the Vice President of Marketing Partnerships for Andretti Autosport and Andretti Sports Marketing. In this capacity, he is responsible for business, client and partner development across all Andretti Sports Marketing and Andretti Autosport properties and initiatives. Doug's expertise is in identifying and designing customized opportunities that align with client objectives and desired ROI.
Prior to joining the Andretti organization in 2007, Doug served as the Director of Client Services with ChampCar and CART (Championship Auto Racing Teams) and was responsible for managing the organization's client services team and overseeing all client relationships and client growth initiatives.
With 20 years of experience in the sports marketing space, Doug has worked with an impressive variety of brands across a wide range of sectors - automotive, luxury, logistics, technology, CPG, retail, B2B, travel/tourism, television/motion picture and consumer electronics - just to name a few.
Doug holds a degree in Sports Marketing from Indiana University. He resides in Westfield, IN with his wife and three children.