Dr. Anthony Thomson
Dr. Anthony Thomson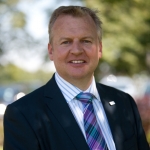 VP Business Development & Marketing
Session Details
Opening Plenary Session
May 20, 8:00am-10:00am
Bio
Dr. Anthony Thomson is vice president of business development and marketing at Qualcomm Europe Inc. With broad responsibility for the business interests of Qualcomm Halo technology, he is a driving force for growth and further development of operations on a global scale.
Dr. Thomson joined Qualcomm in October 2011 after the acquisition of HaloIPT's technology, where he led efforts to commercialize Auckland University's wireless power technology. As founding Chief Executive of HaloIPT, Dr. Thomson was responsible for securing venture funding, developing the company's business strategy, building its technology and management teams prior to its acquisition by Qualcomm.
Prior to HaloIPT, Dr. Thomson worked for over ten years at a number of multinational corporations, investment banks and research institutions, including ABN AMRO, LIFFE, BNP Paribas and NYSE-Euronext across Asia, Europe and the United States. Most recently Dr. Thomson led the commercialisation of novel wireless power technologies at Auckland UniServices, in New Zealand. Previously Dr. Thomson worked at NYSE-LIFFE in strategy and business development roles, analyzing potential acquisitions, structuring and negotiating deals, and providing oversight of post-deal integration.
Dr. Thomson holds an MBA from Cranfield School of Management in the UK and Masters and Doctoral degrees from Otago University, New Zealand. He is a member of the Institute of Directors.