Eric Evarts
Eric Evarts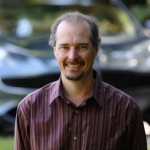 Senior Associate Autos Editor
Session Details
Engaging and Training Dealers
May 20, 3:45 pm – 5:00 pm
EVs are becoming increasingly popular and due focus needs to be paid to the first line of interaction for consumers: the dealership! Discuss how to train and motivate dealerships to help expand the market for EVs.
Bio
A lifelong car nut and outdoor enthusiast, Eric Evarts received a degree in journalism from Western Washington University, spending as much time as possible along the way at the school's Vehicle Research Institute working on biofuel, natural gas, and even solar cars.
After graduating to a career as an international news editor and economics writer at the Christian Science Monitor, the pressing need to wean society off its dependence on oil for transportation became all too obvious.
He has now been covering automotive topics and reviewing cars, mainly from an environmental perspective, for almost 20 years, nine of them at Consumer Reports. It's clear that alternative fuels, including electricity, have their challenges. But it's encouraging to see useful and even fun plug-in cars becoming widely available, as well as dramatic improvements in fuel economy in recent years, driven in large part by electrified vehicles.