France Lampron
France Lampron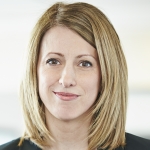 Strategic Planning and Transportation Electrification
Session Details
Pace of Infrastructure Deployment
May 20, 3:45pm-5:00pm
Infrastructure continues to pop up around major cities and along major highways, making it ever-easier to drive electric. Discuss the many issues surrounding successfully implementing workplace and other public charging.
Bio
France Lampron joined Hydro-Québec 12 years ago and has specialized in electric mobility since 2008. She has since managed several of the company's EV pilot projects, and the recent deployment of Canada's first public charging network: The Electric Circuit.
Ms. Lampron serves on the Board of Electric Mobility Canada. She also chaired a Canadian Hydropower Association working group on electric vehicles. She is a graduate of Université de Sherbrooke, Université de Montréal and McGill University.