Jeff Allen
Jeff Allen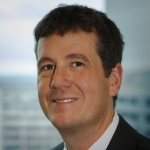 Session Details
The Local View: Public, Private, and Partnered for Success
May 21, 10:30am-12:00pm
What do manufacturers need to do to get greater penetration with cities and local governments? What are the benefits of electric and hybrid fleets - budgets, cleaner fleets, etc.; role of public sector?
Bio
Jeff Allen was hired in December 2011 as the first Executive Director of Drive Oregon, a new state-supported initiative to catalyze the growth of Oregon's electric vehicle industry. In just over a year of operation, Drive Oregon has issued just over $200,000 in grants which have leveraged over $2 million in outside investment in Oregon's rapidly growing electric vehicle industry – an industry worth over $266 million annually to the state. In March 2013, Drive Oregon was also tasked by Oreon Governor John Kitzhaber with leading an "Energizing Oregon Coalition" to promote EV deployment.
Jeff spent the five years prior to joining Drive Oregon in Ashland, Oregon, where he served as an Executive Director or organizational development consultant to several nonprofit organizations, including the Crater Lake Trust, the Small Diameter Stewardship Collaborative, and the Rogue Valley Workforce Development Council. Most recently, Jeff served as Interim Executive Director launching the Sustainable Valley Technology Group, southern Oregon's first business incubator.
From 1996-2006, Jeff served as Executive Director of the Oregon Environmental Council. Under his leadership, OEC nearly quadrupled its budget and staff while strengthening its reputation for creative, collaborative problem solving and effective advocacy.
Jeff currently serves on the board of directors for Sustainable Northwest, and has previously served on many other boards and committees, including the Willamette Restoration Initiative/Willamette Partnership, the Pollution Prevention Resource Center, Groundwire, the State Environmental Leadership Project, and Governor Kulongoski's Advisory Group on Global Warming.
Jeff's previous environmental policy work includes projects in Europe, at the state level, and with national non-profit environmental groups including the Center for Clean Air Policy, the Environmental Law Institute, and the Union of Concerned Scientists. He holds a Master's degree in public policy from the Goldman School of Public Policy at the University of California, Berkeley and graduated Phi Beta Kappa from the University of Michigan. Jeff enjoys cycling, fishing, wine, and spending time with his wife and two small children.