Kevin Larsen
Kevin Larsen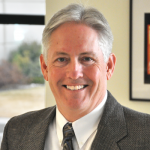 Power Electronics Product Line Manager
John Deere Electronic Solutions
Session Details
Heavy Hitters
May 21, 8:30 am – 10:00 am
The medium and heavy-duty segments are embracing electric drive with exciting implications. Right-sizing vehicles to meet the need of fleet customers, creating a better experience and perception for delivery vehicles, and seamless on-site generation for our work-horse vehicles are all reasons to focus on this suite of opportunities for electric drive.
Bio
Mr. Larsen is the Power Electronics Product Line Manager for John Deere Electronic Solutions, a John Deere Company. Since joining the company in 1998, he has held positions of increasing responsibilities in the areas of design, project management, and customer segment management before playing an important role in creating the Power Electronics Business Segment. For the past seven years, Mr. Larsen has had the responsibility for product line planning as well as sales and marketing for power electronics. John Deere Electronic Solutions develops fully integrated power electronic solutions for John Deere platforms and markets standard power inverters to dozens of non-Deere original equipment manufacturers in heavy-duty vehicle industries.