Mark Simon
Mark Simon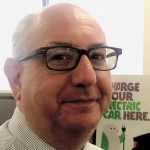 Director of Alternate Fuel Programs
NY City Department of Transportation
Session Details
The Local View: Public, Private, and Partnered for Success
May 21, 10:30am-12:00pm
What do manufacturers need to do to get greater penetration with cities and local governments? What are the benefits of electric and hybrid fleets - budgets, cleaner fleets, etc.; role of public sector?
Bio
Mark Simon has served as Director of Alternate Fuel Programs for the NY City Department of Transportation since 1997. He designs and manages (along with his most excellent staff) 40 million dollars in federal grant programs to promote clean vehicle programs in the public and private sectors. His program experience is with diesel emissions control, electric vehicles, natural gas and biogas vehicles, biodiesel and ethanol. Prior to that, he worked at the NY City Department of Environmental Protection on air quality, environmental impact analysis and alternative fuels. In addition, Mark serves on the board of Empire Clean Cities. Mark has an MS in Public Administration/ Environmental Planning from New York University and a BA from Earlham College.