Matt Jarmuz
Matt Jarmuz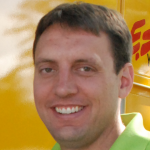 Session Details
Heavy Hitters
May 21, 8:30 am – 10:00 am
The medium and heavy-duty segments are embracing electric drive with exciting implications. Right-sizing vehicles to meet the need of fleet customers, creating a better experience and perception for delivery vehicles, and seamless on-site generation for our work-horse vehicles are all reasons to focus on this suite of opportunities for electric drive.
Bio
Jarmuz is the Director of Sales for Odyne Systems and has overall management responsibility for the sales of propulsion systems for advanced hybrid electric medium and heavy duty trucks. He also helps to direct business and investment strategies for Odyne.
With over 10 years of experience within the truck industry, Jarmuz has held a variety of positions at Odyne and DUECO, Inc. within the engineering and marketing fields. Jarmuz worked to develop the utility plug-in hybrid system that is currently on the market and being deployed throughout North America. He obtained a BS in Mechanical Engineering from Arizona State University and an MBA from Marquette University.
10+ years experience in sales, engineering, product development, the truck industry and hybrid applications
Mechanical Engineering Degree and MBA