Michael Nieling
Michael Nieling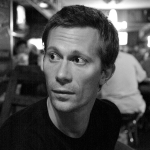 Session Details
Engaging and Training Dealers
May 20, 3:45 pm – 5:00 pm
EVs are becoming increasingly popular and due focus needs to be paid to the first line of interaction for consumers: the dealership! Discuss how to train and motivate dealerships to help expand the market for EVs.
Bio
Michael Nieling is a designer, educator, father, and full time cyclone of energy. He is co-founder of Autowatts, Creative Director at Ocupop and teaches design and MIAD. Splitting time between offices in Hawaii, Colorado, California and Wisconsin, if he's not on an airplane, he's likely somewhere shouting about marketing and design.
Michael has been helping to define the visual language of our digital experience for over a decade. As Creative Director and founder of Ocupop, he has led projects for companies at all ends of the spectrum - from Google, Facebook, Mozilla, and the W3C to countless successful (and horribly failed) startups, Michael has directed his small, super-powered team in creating some of the most influential logos, campaigns, and user interfaces on the web.
Prior to founding Autowatts, Michael received his Masters of Science in Mechanical Engineering from the University of Wisconsin in 2003 with a focus on product design. His graduate studies centered around hybrid vehicle powertrain research for the University of Wisconsin, the Environmental Protection Agency, and Ford Motor Company.