Peter W. Davidson
Peter W. Davidson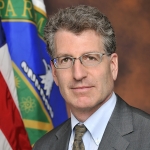 Loan Programs Office, U.S. Department of Energy
Session Details
Opening Plenary Session
May 20, 8:00am-10:00am
Bio
Peter W. Davidson was appointed by the Obama Administration to serve as the Executive Director of the Loan Programs Office at the U.S. Department of Energy, the largest Federal project finance organization in the United States. Mr. Davidson oversees the program's $32 billion existing loan and loan guarantee portfolio in renewable energy and advanced automotive technologies, making the Department of Energy the largest cleantech lender in the country.
Prior to leading the LPO, Mr. Davidson was Senior Advisor for Energy and Economic Development at the Port Authority of New York and New Jersey and was the Executive Director of New York State's economic development agency, the Empire State Development Corporation. Prior to his government service, Mr. Davidson was an entrepreneur who founded and managed six companies and was an executive in the investment banking division of Morgan Stanley & Co.
Mr. Davidson is a graduate of Stanford University and Harvard University's Graduate School of Business Administration.