Pierre-Luc Desgagné
Pierre-Luc Desgagné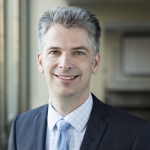 Vice President – Public and Government Affairs
Session Details
V2G+: A Peaceful Transfer of Power
May 21, 10:30 am – 12:00 pm
Entering phase two of electric drive development, there are significant opportunities to use these technologies as sources of portable power for uses ranging from emergency management, to load balancing, to power export for our workhorse vehicles. Learn about the latest innovations that allow plug-in vehicles to redistribute their power and the potential impact that will have across other critical market sectors.
Bio
A native of Québec, Mtre Desgagné holds a Bachelor of Law degree from Université Laval. He has been a member of the Québec Bar since 1992, the year in which he joined the Montréal law firm Grondin, Poudrier, Bernier, where he specialized in commercial and civil litigation.
He then joined the Québec government, working for the Ministère de la Métropole (1996) and the Office of the Premier of Québec (fall 1997), where he became Deputy Chief of Staff.
After joining Hydro-Québec in 2001, he held several management positions within the Groupe – Affaires corporatives et secrétariat general in the areas of public affairs, the environment and government affairs. In 2007, he was named Senior Director – Strategic Planning, a position he held until his appointment in May 2013 as Vice President – Public and Government Affairs. In this capacity, he is also responsible for coordinating Hydro-Québec's initiatives related to the electrification of transportation, including roll-out of the Electric Circuit.
In 2007, Mr. Desgagné received the Arista award from the Jeune Chambre de commerce de Montréal for his achievements in the Young Manager of the Year category.
Actively involved in the community, he is vice-president of the 2011–2016 Fondation Hôpital Pierre-Boucher fundraising campaign and also serves on the Board and the Executive Committee of the Chambre de commerce du Montréal métropolitain.
He also sits on the Board of Directors of TM4 Inc., a Hydro-Québec subsidiary which develops and manufactures electric motors.