Sarah Olexsak
Sarah Olexsak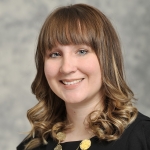 Coordinator, Workplace Charging Challenge
U.S. Department of Energy
Session Details
Pace of Infrastructure Deployment
May 20, 3:45pm-5:00pm
Infrastructure continues to pop up around major cities and along major highways, making it ever-easier to drive electric. Discuss the many issues surrounding successfully implementing workplace and other public charging.
Bio
As part of the Department's EV Everywhere Grand Challenge, Sarah Olexsak serves as the Workplace Charging Challenge Coordinator where she works to increase workplace charging availability across the country. She previously conducted analysis on the Office of Energy Efficiency and Renewable Energy's (EERE) technology portfolio in the Office of Strategic Programs and coordinated the Efficiency and Renewables Advisory Committee. She also served as Chairman of EERE's Assistant Management Board and managed the technical component of the $25 billion Advanced Technology Vehicle Manufacturing Loan Program. Before joining the Department, Sarah promoted the technology commercialization mission of the US Fuel Cell Council. Sarah received a M.S. in Energy Policy and Climate from Johns Hopkins University and a B.S. in Biology from Muskingum University in New Concord, OH.