Steve Ellis
Steve Ellis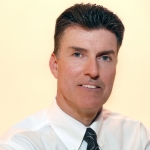 Manager of Fuel Cell Vehicle Sales and Marketing
Honda North America, Inc.
Session Details
Fuel Cells: The Road Ahead
May 20, 2:00 pm – 3:15 pm
Hydrogen fuel cells represent a unique approach to electric drive and are speeding to market. As we prepare to bring this technology to the masses, learn what how leading automakers are preparing these vehicles for introduction and where they see the market heading.
Bio
Steve Ellis is manager of Fuel Cell Vehicle sales and marketing at American Honda. Steve's career at Honda began over 20 years ago. He is responsible for Fuel Cell Electric Vehicle business planning and FCX Clarity deployment to retail consumers.
Steve co-developed the Alternative Fuel Vehicle department at Honda 17 years ago when Honda brought the EV PLUS Electric car and Civic GX Natural Gas Vehicle to market. Steve is well known for his pioneering work on vehicle-related environmental and energy projects, has done hundreds of media interviews and is often sought out as an expert on alternative fuels and refueling infrastructure. Since deploying the first five FCX fuel cell cars to the City of Los Angeles in 2002 he has maintained a focus on success for Hydrogen and Fuel Cell Electric Vehicles. He served on Governor Schwarzenegger's Hydrogen Highway advisory team and recently was honored with a "Lifetime Achievement Award" by the Alternative Fuel Vehicle Institute.
Steve is an avid bicyclist, runner and outdoor enthusiast.