Wahid Nawabi
Wahid Nawabi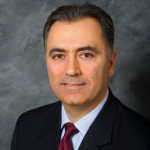 President & General Manager
Session Details
To Plug or Not to Plug: Wired vs. Wireless Charging
May 21, 8:30am-10:00am
As electric drive technologies advance, 'plugging-in' may not involve a plug at all. Come watch the leaders in the charging infrastructure industry debate the merits of wired vs. wireless charging of EVs – and be prepared to offer up your questions!
Bio
Wahid Nawabi is senior vice president and general manager of Efficient Energy Systems (EES) at AeroVironment. With 20 years' experience in advanced technology in diverse industries such as fuel cells, clean tech, industrial manufacturing, and energy management, Wahid is responsible for architecting the roadmap of AeroVironment's Electric Vehicle "ecosystem" solutions offering. As a former segment manager at American Power Conversion (a division of Schneider Electric), Wahid played a key role in revenue growth of $50 million to more than $2.4 billion, helping to establish the company as a world leader in power protection. Wahid sees similar potential in the electric vehicle industry and is committed to enabling the mass adoption of EVs and the advancement of the clean transportation movement.